By Mercy Hill
The Bishop of Awka Diocese, Most Rev Paulinus Ezeokafor, has advised both parents and animators to work concertedly to see that children follow the right path. He said this during a get together with the Holy Childhood Association, HCA, on Saturday 23 July at St Andrew's Parish, Adazi Nnukwu.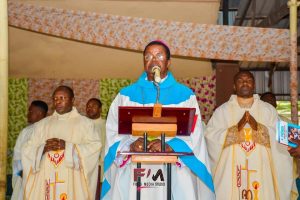 Holy Childhood Association, HCA, is a Catholic children's association founded in France in 1843 by Bishop Charles de Forbin-Jason which has spread to about 120 countries, including Nigeria. It is one of the four Pontifical Mission Societies and is committed to fostering children's awareness of the missionary nature of the Church.
In his homily during the Mass, the bishop advised that children should be taught to do good things early in life so they could grow up to become better persons.
He also advised parents to always be mindful of things they did before their kids as children were good imitators. The bishop noted that the animators had picked up a mandate from God to mould the children in the ways of God and as such should not be found wanting.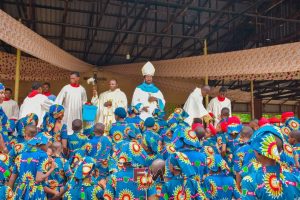 He commended the chaplains, formators and coordinators from different deaneries in Awka Diocese for their efforts in gathering the children together and leading them in the things of God.
Speaking during the event, the chaplain of HCA, Awka Diocese, Rev Fr Tobias Osuigwe, thanked in a special way the bishop for being very keen for the welfare and development of the association. He also thanked the patron of HCA, Awka Diocese, Sir Augustine E, Ibeme and the matron, Mrs Vivien Emma-Nwakanma, for their love and continuous support to them.
He also commended all chaplains and animators from all regions for always conducting and gathering the children together.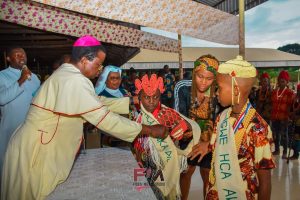 For her part, the coordinator of HCA, Awka Diocese, Rev Sr Mary Makuochukwu Okafor, expressed excitement over the turnout of children for the event. She noted that children from distant villages attended and participated actively, which, she noted, was very commendable. In a special way, she thanked the bishop for always making time from his tight schedule to spend time with children.
Highlight of the event was a march past, sack race, filling the bottle; as well as fashion parade by the HCA from different deaneries in Awka Diocese.
Result from the competition
MARCH PAST
Ebenebe Deanery: 1st position
Awka Deanery: 2nd position
Ifitedunu Deanery: 3rd position
Enugwu Ukwu: 4th position
Neni Deanery: 5th position
FILLING THE BOTTLE
Umeokoli Jachukwu: 1st position (Agulu)
Munachi Esther: 2nd position
Ibemesi Ohikanma: 3rd position ( Ifitedunnu)
SACK RACE
Chimobi Adum: 1st Position (Adazi Deanery)
Amara Ikoro Chikanyimma : 2nd position (Nimo)
Anaonye Chinedu :3rd Position ( Agulu)
FASHION PARADE (IGWE)
Igwe Chisom Okoye: 1st position (Ifitedunnu)
Adazi Deanery: 2nd position
Awka Deanery: 3rd position
FASHION PARADE (LOLO)
Adazi Deanery: 1st position
Enugwu Ukwu : 2nd position
Awka Deanery II : 3rd position