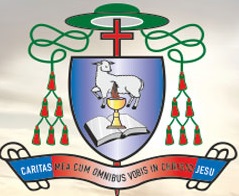 BISHOP'S COAT OF ARMS EXPLAINED.
The Coat of Arms of a Bishop or a Nation is not only a mark of identity but also the symbolic depictions of the values the Bishop or Nation wants to be identified with. In the case of a Bishop, his coat of arms display generally the common symbols of the shield of faith: the sword (the upper part appears like a cross) of the Word of God, the shepherd's hat and the priestly cincture. Other elements depict a particular bishop's vision and commitmen.
WANT TO KNOW MORE ABOUT BISHOP
---
Most Rev. Paulinus Chukwuemeka Ezeokafor was born at Ifite Nanka in Orumba North Local Government Area, Anambra State, to late Mr & Mrs Raymond Enukebe und Veronica Nwasinwa Ezeokafor on the 13th of September 1952. His Excellency Bishop P. C. Ezeokafor attended the St. Anth..